Cockatoo is a fun slot machine developed by Casino Technology. It is one of the most popular slots developed by Casino Technology. The game is rather old and is not as popular as it once were, but the game can still be found in a number of online casinos.
The game is just as the name suggest themed around cockatoos and the tropical fruit that the cockatoos eats. Among the fruit symbols, you find coconut, banana, kiwi, fig, oranges and blood oranges. The games also contain tiles depicting numbers.
The slot is colorful and very fun to play. We believe that the cockatoo in the game is the Major Mitchell's cockatoo.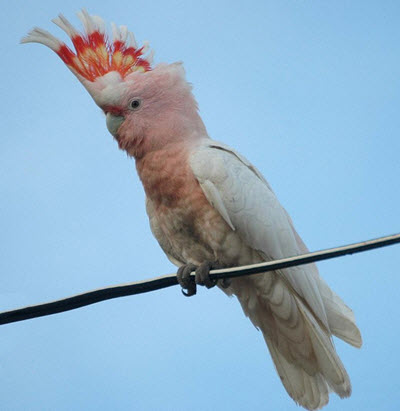 The Major Mitchell's cockatoo is not as famous as the white cockatoo but it more vibrant and colorful with its bright pink colors.
Wheels and pay lines
The slot machine offers 5 wheels and you can choose to play up to 15 pay lines. You can only play one coin per pay line. The coin value can be set to be as low as $0.01 and as high as $1. Maximum bet on a single spin is $15. $1 on each of the 15 pay lines.
How much can you win?
Cockatoo has a theoretical payout ratio of 95.33%. IE 95.3 cents of every dollar you bet will be returned to you. This is the theoretical average. Some players will win money while others will lose more money more quickly. This is true for this and all other slot machines. A hold of 4.67 % is rather large for an online slot machine, and there are plenty of other fun slots that you can choose to play that offer better pay ratios. I recommend that you try slots from NetEntertainment. These slots are fun to play and offer you a better chance to win money.
The largest single win you can win on a single pay line is 2500 Coins. 2500 coins can be worth as little as $25 or as much as $2500 depending on the coin value you are using. It is possible to win more than 2500 coins on a single spin if you have more than one winning pay line.
Scatter
This slot machine does not offer any scatter or free spins.
Bonus games
Cockatoo does not offer a bonus game.
Wild
The slot does have a wild. The wild symbol is the cockatoo. The cockatoo is an expanding wild that can cover an entire wheel and can replace any other symbol in a winning combination. The wild can only appear on wheel two, three and four. Not on wheel one or five.
Where can I play cockatoo?
You can play cockatoo in most (but not all) casinos that offer games from Casino Technology. I recommend that you read casino reviews to find a good casino that offers the game. If you do not want to read reviews then I suggest you look for the game in Videoslots Casino or slot million Casino. These are the two Casino Technology casinos that seem to get the best reviews on different casino review websites.